The digital force of the company: communication, collaboration and storage to improve your work team's results.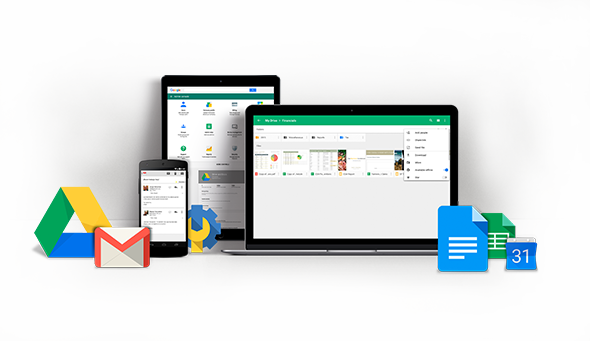 WITH THE SUPPORT
OF OUR
BEYOND TEAM
We are committed to working with your company from the beginning, advising you from start-up through new functionality implementation support.
What do you need to know? Get all your questions answered.
One of our consultants can contact you with more information.
Want to talk? Fill out the form and we'll get in touch with you.
Or if you prefer, call us at: +34 955 11 44 22.
G Suite Productivity in Your Business
Schedule events on your Calendar at times that work for everyone. Get reminders directly to your inbox. With just one click, you can join a video conference through Hangouts and share your presentations to review them as a team. Less preparation, fewer steps.
Control the budget control with spreadsheets, share it with the rest of the team and edit it in real time. Since it's automatically stored in Drive, everyone always has access the most current version. There's no more need to send attachments to make sure that everyone has the latest version of the document.
Thanks to cloud storage, you'll have all your files in the same place and will have access to the latest version, from any location or device. Synchronize files automatically from your desktop and access them with any device.
In addition, you have 30 GB of storage per user, shared between Drive and Gmail; enough space to save a large amount of information/data. Not enough storage? Contact us and we'll give you more alternatives.
Keep your business data protected with device management that allows you to easily locate devices, request passwords, and erase data if necessary.